Okinawa Naha Hari Festival
Many interesting events take place in Okinawa throughout the year. Recently I photographed the 23rd Naha Hari Festival (Dragon Boat Race) while participating in it's live Internet broadcast in Naha city.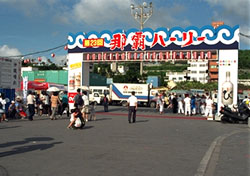 It was my first visit to Okinawa and upon arrival at the airport I really felt the heat. As early as May the Sun shines from the zenith and it's Summer time in Okinawa! I was a little worried about the weather as Okinawa's rainy season began ten days earlier than usual, however it rained heavily only once.
Hari (or "Ha-re") Festival originated as a pray to God for good harvests and safe fishing. It is held all around Okinawa prefecture. It was originally held in May in accordance with the lunar calendar, but in Naha city the festival follows the solar calendar during "Golden week" (a week long national vacation in Japan). I heard from a taxi driver that a more traditional festival is held in Itoman city.
Naha Hari Festival is held from May 3 to May 5 every year at Tomari port in Naha city and the Dragon Boat Race is held on May 5.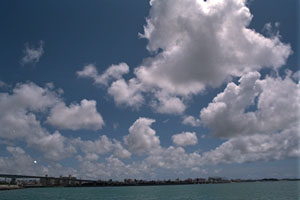 I was worried as bad weather had been forecast the day before but the sun shone throughout the festival.
It doesn't rain all day long during the rainy season in Okinawa. There will be some sunshine, then some heavy rain and then it stops... This area is in a subtropical zone. I managed to get a sun tan despite the fact that the daily weather forecast always said "Cloudy sometimes rain". I suntanned on a beach where it's fine even though there's cloud cover in the sky.

---
The Dragon Boat Race is divided into two sections; "Occupational Hari" and "Main Hari". "Occupational Hari" consists of race heats during which boat teams compete for the fastest time three at a time. The "Main Hari" is the highlight of the festival, like "Occupational Hari" three boats race at one time.
Each race finishes in just approximately three minutes. The Racing distance was shortened as of this year. To tell the truth I felt too short.
This race was broadcasted by Okinawa Television Broadcasting Co. and the same image was also sent to the Internet.
The live Internet broadcast was carried out with the cooperation of Okinawa Television Broadcasting Co. Plus we broadcast scenes of Hari Festival Makishi Public Market on May 4 Beach and Hari Festival on May 5 with the cooperation of NTT DoCoMo using TransCam as a cellular phone system.

The Yellow boat left after the festival. People looked calm now that the race was over.
This was my first time to come to Okinawa so I didn't know the Hari Festival and Dragon Boat Race very well. I now realize that Okinawa is not so far from Tokyo and that there's many places to visit. I'm not sure if I will be able to visit again next year, but I will certainly go again in the near future.

---
---
---
---


Return to T/Mori Internet Projects Page
---